Animation Institute. Career Scope of Animation in Upcoming Years.
As India is becoming a digital country. With Growth of Digitization in India, the world is transferring to the digital world.In the upcoming year, the scope of animation is going to very much huge. One can learn animation from any Animation institute. within master courses like multimedia, animation, post-production and visual effects as a regular or part-time student. Different institutes including private and government are available in all major cities and towns of India.
Some of these institutes offer classroom training, online training as well as both classroom and online training. Selecting the best of these institutes, which offer real-time training, special classes, workshops, and job assistance will always benefit. Animation Boom One of Delhi's leading Animation & Multimedia Institute "Animation Boom is a unique Animation institute which provides animation courses, multimedia course, 2d animation, 3d animation in creative arts. It also offers a range of professional courses in Graphic designing, Web designing, Interior designing, Character designing, Maya, VFX. Animation Boom is the animation institute the center of animation premises, which provides a platform to students where a professional work can compete on a global stage in the Animation and Multimedia Industry.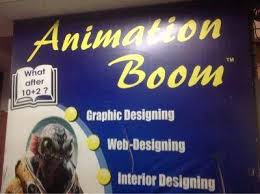 1.Graphics Designing: Graphic designing is the very important factor for maintaining a business strong online presence and good brand identity so they must wisely choose the best graphic designing services for their website.
2.Web designing: Web Designing needs a critical approach to managing supervises gather a charming webpage. For a website to be effective and give the desired results, it needs to be developed by a company with expertise in the relevant field.
3.3d – Max: The Future is bright after learning 3D Max course. 3D Max is the best-known software in the industry for making any kind of 3D presentations. There are many 3D Max training institutes in Delhi which are offering 3D Max coursesThe Media and Entertainment division of Autodesk launched the 3D animation and rendering software, commonly known as the 3ds MAX.3D substance is made with a PC and programming, for example, 3ds Max, Maya, Revit, and AutoCAD.
4.Maya software: Maya 3D animation, modeling, simulation, and rendering software provides an integrated, powerful toolset. Use it for animation, environments, motion graphics, virtual reality, and character creation. Get Maya, 3ds Max, MotionBuilder, SketchBook Enterprise, and Mudbox together.