I don't have a degree is it possible to find job in VFX or animation company
In today's time, with the growth of digitilization in India, the demand of doing Animation courses are rising day by day. Not only in India but also in abroad the demand of animators are increasing rapidly. After completing your Animation course, you can easily open an employment opportunities for yourself in various sectors, that's why, more & more people now looking forward in an Animation industry. Degree is not compulsory for getting the job in an Animation company, the certificate or the diploma is also sufficient for the Animation field.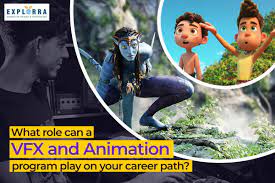 Animation company. Fields in which Animators should be hired
The following are the areas in which an animators should be hired either they have the certificate, diploma or degree of the Animation course:
2D Animator
3D Animator
Graphic designing
Web designing
Interior designing
Rigging artist
Texturing artist
Background artist
Rendering artist
Lightning artist
Compositor
Game developer
Advertising & Packaging designer
Skills required in an Animation industry
For doing certificate, diploma or degree course, an aspirants must have an outstanding & excellent skills that are mentioned below:
Creativity & good imagination skills
Great presentation & communication power
Must have an ability to meet the deadlines given by the clients
Must have a good knowledge of computer & its software
Good sense of choosing the colors
Must have a knowledge of the expressions, structures & colors of the birds, animals, vehicles, human beings & many more which are very much needed in an animation industry.
There are several sites that gives an opportunity to the animators to showcase the best work in all over India except the degrees. In other words, we can say that Animation industry has a very little to do with degrees or certifications, only your skills or desires are needed in an Animation industry. For more inquiry related to this, feel free to contact Animation Boom, which is the best Animation institute in Delhi for providing Animation course in Delhi.