Uses of Computer Animation
In today's time, with the growth of digitilization in India, the uses of Animation courses are increasing day by day. No industry either it is small or large, Govt. or private can run smoothly, effectively & efficiently without the help of animators. That's why, people are getting more attractive towards the animation industry, so, it is not wrong to say that the uses of Animation courses are rising rapidly. Animation sector is only the sector in which the students get the flexibility of doing course without any specific background, either the student are from Science, Commerce or Arts.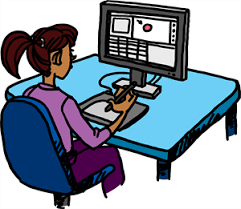 Uses Of Doing Computer Animation
Computer Animation is a good career option for the students both in India & abroad. After doing an animation course, you can open many employment opportunities for yourself in various sectors & also earn an handsome salary too, such as follows:
2D Animator
3D Animator
Graphic Designing
Web Designing
Interior Designing
Flash Animator
Rigging Artist
Background Artist
Texturing Artist
Compositor
Advertising & Packaging Designer
Game Developer
Key Frame Animator
Special Effect Artist
Character Animator
Image Editor
Rendering Artist
Skills Required For Doing Computer Animation
If you want to become an animator or you want to make your career bright in an Animation industry, then for that, the following skills must be required:
Your Creativity
Good Visualization & Imagination Skills
Great Presentation & Communication Skills
Good sense of Choosing the Colors
Must have a Knowledge of Computer & its Software
Hard work, Patience & Dedication are very essential in every field
Must have an ability to meet the deadlines given by the Clients
Always welcome the new ideas
Always be ready for the latest Software
Animation Boom is the best Animation Institute in Delhi for doing Animation Course in Delhi. They give an individual attention to their students. They also give 2 free trial classes to the students before admission.